Employee Spotlight: Lap Duong, Legal Operations Manager

Anduin's mission is to revolutionize the investor experience in the private markets. To achieve our mission, we've built a team of talented individuals from all around the globe.
Our Employee Spotlight series highlights members of our team and shares their experience so you can get a glimpse of what it is like to work at Anduin. For this blog, I've connected with Lap Duong, our Legal Operations Manager, located in Ho Chi Minh City, Vietnam.
---
What do you do at Anduin?
I've been with Anduin for 11 months as a Legal Operations Manager. Right now I'm navigating between how to scale up our digitization pipeline (future) and coordinating incoming digitization tasks every day (present).
What attracted you to Anduin?
It's intriguing what Anduin does, trying to change a monotonous task within a very dynamic landscape: private market transactions.
Also I love Lord of the Rings so I was naturally drawn to the name of the company.
What is your favorite part of your job?
Working with many teams at the same time, submerging in their ideas and challenges, and then surfacing with solutions.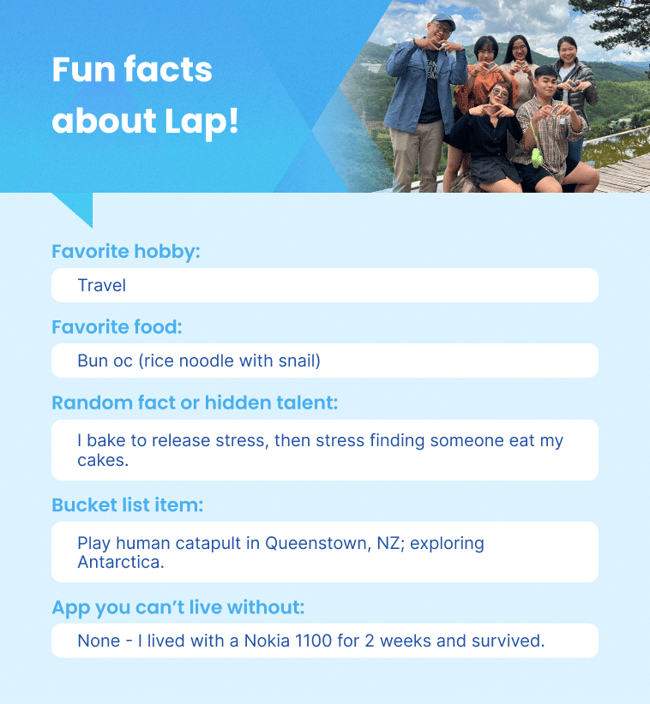 What skills have helped you be successful at Anduin?
Communication and ability to prioritize. Personally, I think when you work in Operations, trying to optimize resources and offerings, you are blessed to interact with many teams on many different issues and topics. Being able to be open and lead a conversation to a fruitful output, and being able to navigate among so many different thoughts (of others and your own) is most important to reach a conclusion and a pathway forward.
What is something that is part of your daily routine when working from home?
My two must-haves are: coffee at 7am while checking Slack, and walking my dog at around 4pm-ish so he wouldn't nag me.
What is the most important thing you've learned since starting at Anduin?
Be patient and considerate with the team, with customers' requests, and with myself. Take steps, big and small, but be consistent with the target, be patient with the progress, and be considerate to my own and other development.
How would you describe Anduin in 3 words or less?
Transparent, Progress, Challenging


---
Interested in joining Anduin?
See all of our current open positions here →


---