The 5 things you need to know to create a successful app, SaaS, or software business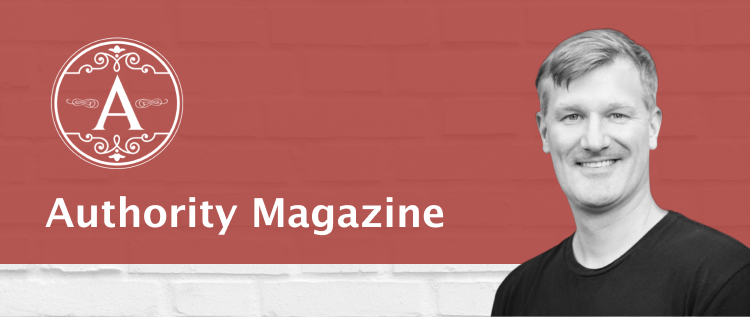 This interview with Tyler Gallagher was originally published by Authority Magazine as part of their "5 Things You Need To Know To Create a Success App or SaaS" → View it here

---
"Don't chase silver bullets — be good at lots of stuff, not just relying on a single notable differentiator. That will make you more resilient and harder for your competitors to copy you." - Eliot Hodges
Eliot Hodges is the CEO of Anduin, a Silicon Valley technology company building the infrastructure to make the private market as efficient and transparent as the public one.
Prior to Anduin, Eliot ran Growth at Anchorage, an A16Z-backed crypto technology firm where he helped launch two digital asset businesses. He is also an alumnus of Blend and Palantir where early on he built several key functions in marketing, partnerships, and business development. He is a graduate of Harvard College and Northwestern's Kellogg School of Management.
————
Thank you so much for joining us! Our readers would love to "get to know you" a bit better.
Can you tell us a bit about your 'backstory' and how you got started?
I was happily ensconced in the world of institutional crypto infrastructure before Joe Lonsdale, the co-founder of Palantir, recruited me to Anduin. The sheer size of the private markets made the jump a no-brainer for me: about $12 trillion in assets under management in 2021 and forecasted by Preqin to grow to $23 trillion by 2026.
Despite their size and profitability, private funds are underinvested in technology. Their financial services peers spend 7–9% of revenue on technology, while funds spend less than half of that. In fact, the investment community is still running many of its critical processes in Excel and a patchwork of other off-the-shelf technologies laboriously cobbled together and maintained by in-house IT.
Anduin is looking to change that. The company was co-founded by Alin Bui and Joe Lonsdale to address pain that Joe personally encountered in every private market transaction he'd ever seen. Until then, the universal experience with private market transactions had been frustration with cumbersome processes, poor user experiences and high costs.
What was the "Aha Moment" that led you to think of the idea for your current company?

I joined Anduin two years ago, several years after the company had been founded. The private markets technology world is a world unto itself. I carried out extensive due diligence on the industry and the company before joining as its CEO. And everyone in the investment community that I spoke with confirmed the pain points that Anduin was addressing.
Without exception, they detailed how difficult processes got in the way of carrying out business, especially onboarding new limited partners into their investment vehicles and managing those relationships post-close. Moreover, each customer and partner I spoke with told me how much they loved working and innovating with the Anduin team.
Those three ingredients were really enough for me: 1) huge market 2) an industry traditionally underserved by deep tech and finally 3) Anduin, a deep tech company that industry leaders love working with. Sign me up!
Can you tell us a story about the hard times that you faced when you first started your journey?
Did you ever consider giving up? Where did you get the drive to continue even though things were so hard?
The hard stages were largely around the upfront work of developing a flexible platform that would match up to and scale with the processes various funds and investors needed. After all, even if you hate your current processes, it's what you relied on for working with people who will entrust you with many millions of dollars. Giving up that process for something much better takes substantial levels of trust. Hesitation to change is normal, but changing processes for the better is the right challenge to overcome.
And it takes time to develop trust with these firms. Our early customers were largely bleeding-edge West Coast VCs in our network who articulated a clear pain point that they wanted our help with. Their positive feedback to the product helped overcome the inertia of other fund managers who would initially say, "We only have to endure this once or twice a year, so we can grit our teeth and handle it."
We simply kept expanding concentrically to other funds from there. It's also worth mentioning: today, there's an arms race among funds to make it all easier on investors. There is also considerable cross-pollination between funds, so new standards move fast once there's initial acceptance. And, perhaps most importantly, this is simply something that investors really want, and we are helping funds meet those rising investor expectations.
How are things going today? How did your grit and resilience lead to your eventual success?
The overwhelming response from funds and their investors is that they, well, love it. In fact, our net promoter score (NPS) is just a few points shy of Apple's. One of our greatest joys here at Anduin is when fund managers forward us emails from their investors literally thanking them for providing them with such a friendly, guided onboarding experience.
Most importantly, we think we have become a part of our customers' critical process.
Once they transact on Anduin, they don't want to go back to the way things were.
Can you share a story about the funniest mistake you made when you were first starting?
Can you tell us what lessons or 'takeaways' you learned from that?
I can't think of a funny mistake, but I can think of a moment where I realized that what we were doing at Anduin mattered. A large multibillion-dollar fund was once considering Anduin's LP Onboarding platform. However, their Director of IT put a hold on it. After all, they had just spent several quarters and a lot of money building their own tool. At the time, we were obviously disappointed.
Fast forward six months: after receiving negative feedback about their DIY solution and suffering through a lot of bad investor data, they came back looking to learn more about how our solution could help them.
And, to be clear, there is never any Schadenfreude when someone's internal IT project fails. Rather it's just a sober reminder that technology is difficult. Investor onboardings are difficult too. This is precisely why we built an entire company around solving complex GP-LP interactions like this.
What do you think makes Anduin stand out?
Our customers don't just love the outcomes we deliver, but they really enjoy the process of innovating with us.
What I hear from our customers: a lot of these private market firms are stuck between legacy systems that no longer innovate as much as they once did and custom developers who charge them an arm and a leg for making any type of change.
So, it leaves customers pretty astonished when they give us suggestions and see it reflected in the product a sprint or two down the road.
Which tips would you recommend to your colleagues in your industry to help them to thrive and not "burn out"?
I've always tried to set a high bar for where I spend my working hours. Three lenses that I always apply to place where I am either working or am considering working:
Am I excited about this company's mission?
Do I genuinely like working with the people at my company? Better yet, do I admire them?
And, finally, is the company growing — and am I growing along with it?
It's a simple framework, but it ensures that you spend your precious energy wisely. Conversely, not having alignment on the three questions above will lead to burnout faster than anything I know.
None of us are able to achieve success without some help along the way. Is there a particular person you are grateful for who helped get you to where you are today?
My father is a perennial optimist. Growing up, he would always give me encouragement that at the time always felt a bit trite. Like "Tomorrow is another day" and Churchill's famous quote on the most important six words in the English language: "Never give up — never never never." But those sayings stuck with me and helped me along whenever I encountered a bump here or there.
Thank you for all that. Now let's shift to the main focus of this interview. Approximately how many users or subscribers does Anduin have? Can you share three main steps you've taken to build your community?
We have helped over 170 client funds with onboarding over 12,000 investors and over $16B in assets. There are low tens of thousands of funds globally, so we still have a ways to go to making Anduin a global standard.
However, our goal is not just to become the global standard for investor onboardings, but also for downstream GP-LP transactions like capital calls, investor communications and distributions.
Our market is bounded in terms of the sheer number of accounts we can go after. So, every touchpoint with every prospect and customer matters. That is why we emphasize quality in everything we do, from our marketing collateral to how quickly we answer support tickets and communicate with our customers.
What is your monetization model?
How do you monetize your community of users? Have you considered other monetization options? Why did you not use those?
We charge an annual subscription fee based on the assets your organization has under management, plus a transaction fee for every fund or SPV that you raise on the Anduin platform.
As mentioned earlier, we are extending our product beyond investor onboardings to full lifecycle investor management that will expand our revenue footprint.
(It's worth pointing out that fund managers will often chalk up Anduin as a fund expense given how critical it is to the smooth operation of their funds.)
What are the five most important things to know to create a very successful app or SaaS?
As Steve Jobs said, start with customers and their problems—and then build the technology. Not the other way around.
All touchpoints with stakeholders, customers and users should be treated as sacred, especially if your technology is serving a bounded market
Don't chase silver bullets — be good at lots of stuff, not just relying on a single notable differentiator. That will make you more resilient and harder for your competitors to copy you.
You are a person of great influence.

If you could start a movement that would bring the most amount of good to the most amount of people, what would that be?
I'm very optimistic that what we are doing at Anduin will serve the next generation of investors and fund managers in important ways.
The private markets are known for outsized returns — and they remain a great vehicle for wealth creation for institutional and retail investors. But they have not been accessible to everyone. And there are many investors who are underinvested in the alternative investment space. Technology can really help bridge that gap, but also lower the barrier to entry for first-time fund managers to be successful.
How can our readers further follow your work online?
To be honest, I am not all over social media. However, if you have any connection to the world of alternative investments, I hope you'll bookmark anduintransact.com and follow our company on LinkedIn, Twitter, or Facebook. There is a lot more we will be sharing about our company and product roadmap over the coming quarters.


---
Ready for more?
Follow Anduin Transactions on LinkedIn →


---