Employee Spotlight: C.W. Estoff

Anduin is on a mission to empower lasting investor relationships in the private markets.
We've assembled a global team of talented, ambitious individuals focused on transforming alternative market transactions so they are just as easy as the public markets.
Our Employee Spotlight series highlights our colleagues so you can get to know the Anduin team. This time, I connected with C.W. Estoff, our Senior Manager of Customer Success located in Boston, Massachusetts, USA.
---
A quick note on Customer Success
We take Customer Success very seriously at Anduin. In addition to C.W. joining, we've also added Laurina Hedd-Williams, Jonathan Tam, and Ryan LaTorre in recent months. Increasing our CS Team ensures we can properly serve and meet the needs of our growing client base and we're proud to invest in their success.

Welcome our new CS Team Members and a huge thank you to our existing team members Eric Chen, Charlie Cunningham, Steven Luong, Andrew Pavlov, and Kate Truong for their hard work!



---
What do you do at Anduin?
As the Senior Manager of the Customer Success Team, I'll be helping our Implementation Managers, Associates, and Support team refine their process and set us up for scaling the team as we grow. Above all, my goal is to provide best-in-class service to our clients.
What attracted you to Anduin?
I have worked at three other tech companies serving the higher education and Fortune 500 markets, but haven't worked with private markets.
I've seen how SaaS technology can positively impact other industries and I am excited about Anduin's mission to bring digital transformation to private equity.
What is your favorite part of your job?
As a newer colleague, my favorite part is getting to know the team, our systems and processes, and working with my colleagues to bring scale to our business.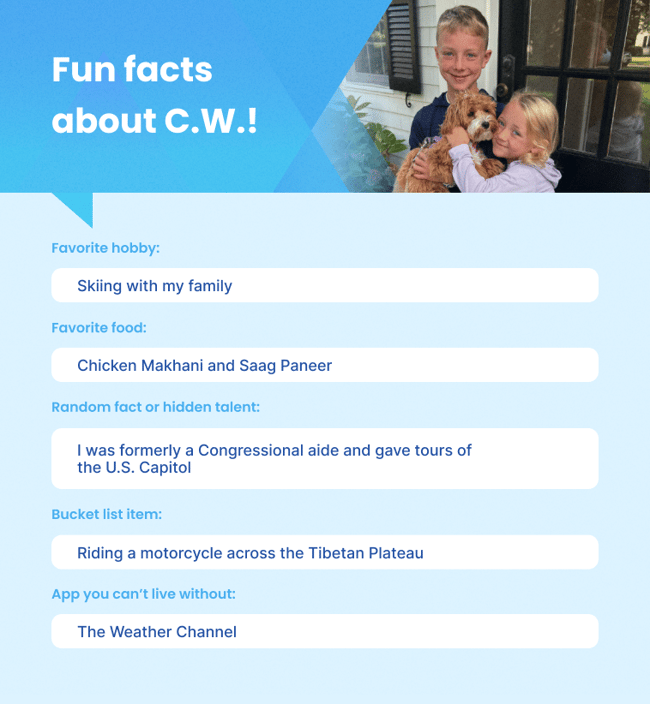 What skills will help you be successful at Anduin?
I have worked in customer-facing roles for more than 12 years, and I've seen how important the human element is in helping organizations get the most value out of their technology investments.
Keeping that in mind, I believe this human element is the most important part of being successful here at Anduin.
What is part of your daily routine when working from home?
I always make time for a walk, workout, or bike ride as a key part of my daily routine.
I'm lucky to live on the south shore of Boston where we're close to amazing parts of nature like the ocean, beaches, biking, and hiking trails.
What is the most important thing you've learned since starting at Anduin?
We have a huge opportunity to help the private markets with digital transformation. With increasing competition in our space, we need to continue moving fast and keep being an innovation leader.
How would you describe Anduin in 3 words or less?
Transforming private markets


---
Interested in joining Anduin?
See our open positions here →


---