Employee Spotlight: Ben Tortorelli

Anduin is on a mission to revolutionize the investor experience in the private markets.
We've assembled a global team of talented, ambitious individuals focused on transforming alternative market transactions so they are easy, efficient, and painless.
Our Employee Spotlight series highlights our colleagues so you can get to know the Anduin team. This time, I connected with Ben Tortorelli, our Lead Product Designer located in our Ho Chi Minh City office in Vietnam.
---
What do you do at Anduin?
I lead the Product Design Team at Anduin, which consists of 6 individuals.

In my role, I work on the design and user experience of all our different products. I have been at Anduin for over 6 years now.
What attracted you to Anduin?
I am a self-taught product designer, as my background was originally in business and marketing. I started learning design as a hobby when I was a student.
As I got better at design, I took a leap of faith and switched to being a product designer full-time. At first, I was doing a lot of freelance work. It was nice to gain more concrete experience, but working as a freelancer was pretty lonely. When Anduin reached out to me, I saw it as a great opportunity to:
join a startup at an early stage, when people wear different hats
challenge myself by working in an industry I wasn't familiar with
collaborate with a really talented team and learn from them
What is your favorite part of your job?
I love the creative side of being a product designer and seeing designs come to life.
We're all here to solve real-world problems. The best way to do that is by making sure we understand our users, their needs, and their pain points.
Once we do, we can start designing the right products and features. I thoroughly enjoy experimenting and testing out different options, then seeing something that started as an idea turning into a real product.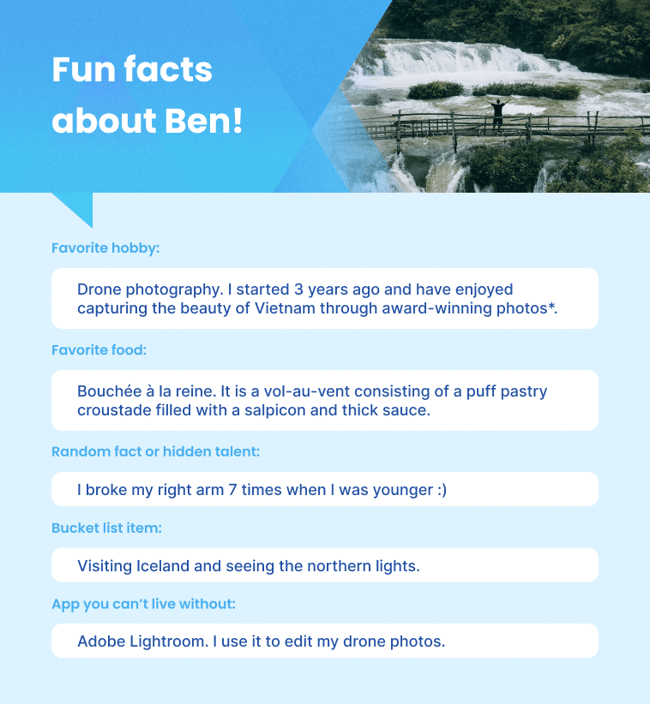 * Ben's photography is so incredible, he's been featured in newspapers in Vietnam
and even won a SanDisk competition. See his photos on Instagram: @with.b3n
What skills have helped you be successful at Anduin?
Listening and asking questions: Both will aid you to grow your knowledge on users, pain points, our industry overall, and more.


Being proactive: If you can help move something forward, be proactive about it even if it isn't your responsibility.


Auditing and improving our Design Team processes: Always question the way we do things and list areas that can be improved. First, bring the team together to brainstorm potential solutions and process improvements, try them over a month, and then do a retrospective to see if they were helpful.
What is something that is part of your daily routine during the work week?
To-do lists! This is key to making my day efficient.
For me, to-do lists are a little bit like working out. If you go to the gym without a plan, your training won't be as effective. You'll spend most of your time trying to figure out what muscles you should train, how many reps or sets you should do, etc. If you go to the gym with a well-defined plan, your workout is a lot more effective.
Planning my day and creating to-do lists gives me clarity. It's a real-time saver.
What is the most important thing you've learned since starting at Anduin?
The importance of gathering feedback and validating assumptions.
It is really critical. Our team in Vietnam can be physically far away from our users and in different time zones, so it's not always easy to talk with them directly whenever we have questions. This is why building a culture focused on validation with data and gathering feedback is key to creating the right product features and reducing potential mistakes.
How would you describe Anduin in 3 words or less?
Resistant. Innovative. Flexible.


---
Interested in joining Anduin?
See all of our current open positions here →


---