A year in review: The good and bad of 2022 plus looking ahead to 2023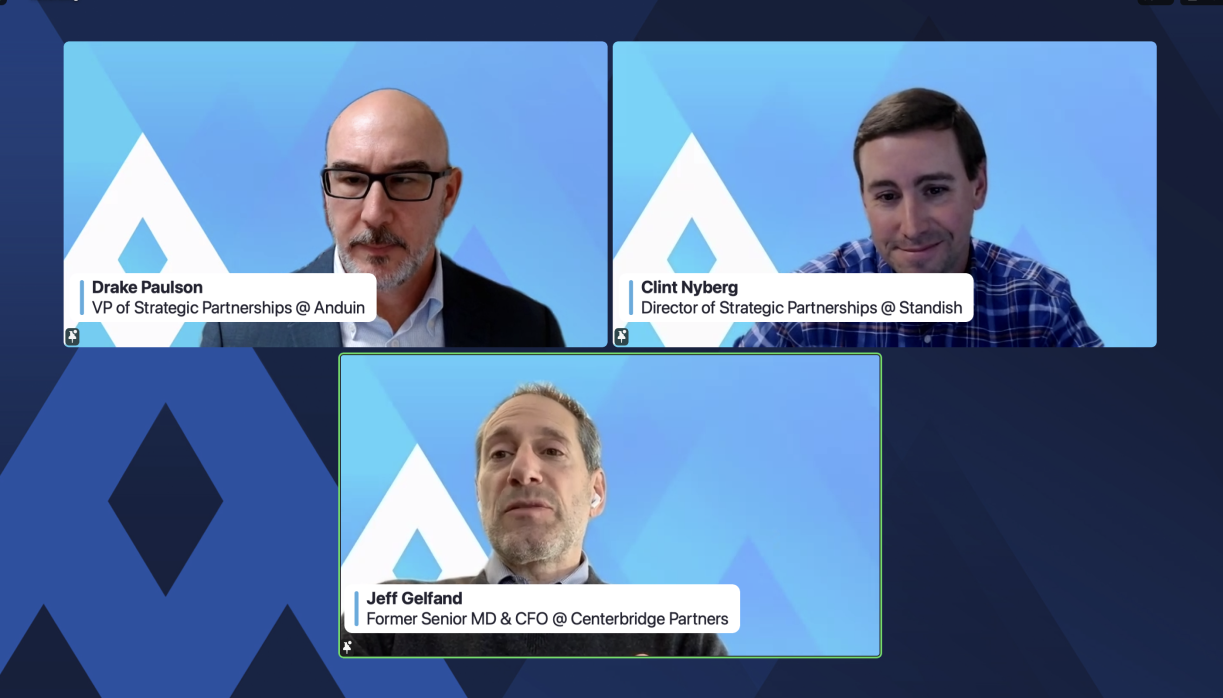 Next year is almost upon us! Before we move on from 2022, the Anduin team hosted a conversational webinar with industry experts Jeff Gelfand, former SMD & CFO at Centerbridge Partners, and Clint Nyberg, Director of Strategic Partnerships at Standish Management, to get their take on this past year.
Anduin's own VP of Strategic Partnerships, Drake Paulson, moderated the conversation, which ranged from expectations in the post-pandemic world going into 2022, the biggest positive and negative surprises, and the top trends that were seen in 2022 with predictions on if they'll continue into 2023.
Keep reading for an excerpt from our panelists or watch the webinar replay here.
---
What surprised you most in 2022?
Clint:
Right off the bat: the war in Ukraine that ultimately led to sanctions. Separately there was an increase in interest rates over time. But putting that aside, my bullish outlook is just the delays in fundraising.

I'd say most fundraisers that were delayed either:
had a soft closing and they didn't want to bother their LPs with cap calls right away given the lack of deal flow or deals that had fallen through over the year
didn't want to bother their LPs with going through the whole fundraising process so they decided to wait until 2023
We'll talk about that more later, but I think 2023 will be a pretty big fundraising year, which would be good for Anduin as well.
On the negative side, increased costs have started to happen for service firms in 2022 and will continue to happen in 2023. There will probably be a little more turnover on the service provider side and in the back offices, just in general. I've seen quite a lot of much larger firms facing their own turnover and having conversations with other service providers in the stack. Audit and tax were generally seeing a 10 to 20% increase in costs for the 2022 audit and 2022 tax season going into next year. That's, unfortunately, some of the negatives that our clients are going to have to bear.
On the positive side when you look at additional costs and possibly additional turnover at the client level, that leads to an increased need for outsourcing and more efficiencies.
Not to plug us too much, but Standish has had less attrition over the last few years than most or probably all other administrators. I'd say there, there are definitely ways to help incentivize folks. I won't give away the secret sauce, but I think it will be quite interesting to see where this all goes.
And to Jeff's point, I've personally received and know a number of my other colleagues have received inbound from other folks who are looking to change their administrator. It's definitely a process. Most of the time, firms are frustrated and haven't fully made the decision yet, but we help guide them through those key factors of what's driving those problems.
Jeff:
The biggest surprise, which was a negative, was turnover.
I have talked to people that run different fund admin shops, and I don't know what the true numbers are, but my sense is that turnover is twice what it used to be. It's invaded some of the stickier people that have been at the fund admins for quite some time, so more of the senior, tenured talent has moved on.

It's classic supply and demand. There are not enough people in this business anymore, so people are trading out for much higher pay, which is driving up everybody's costs. Some of my clients have gotten proposals a year ago for audit and tax, and then when they get their engagement letter, the numbers are higher. Well, you can't really do that. But their cost of administering their own businesses is much higher and so they need to pass that on to clients.
I've had many clients call me up and privately complain that they've been missing deadlines due to both fund admin and their own turnover, but particularly on the fund admin side. Fund admin can't get these things over the finish line. They can't follow their KPIs and deadlines that are in their administration agreements. I'm sure that's not the case everywhere, but it really depends on who was on your account, whether that account's intact, and at what point in time they decided to move on.

But that's a real problem. There are a lot of people that have talked to me privately about changing fund admins. I question them to not, even though maybe that might be the right answer, it's not right now. So unfortunately we are in this cycle that we just have to push through.
I think that requires the buy side to step up and put extra eyes on the fund admin work like maybe they haven't in a while.
That gets into some regulatory stuff that's coming through from the SEC also. So it's been an interesting year. Let's just leave it at that.


Ready for more? Click here to watch the replay


---
Thanks again to Jeff Gelfand and Clint Nyberg for sharing their insights!