Positivity reigns at SuperReturn 2022 amid this transformative era

This article was originally published on LinkedIn → Click here to follow Anduin Transactions
---
It was an exciting experience attending SuperReturn International 2022 on June 14-17.

The world's largest private equity and venture capital event has been held annually in Berlin for the past 25 years. Attendees included 3,000+ of the world's most influential GPs and LPs, and the agenda had 250+ speakers covering topics ranging from innovation, disruptive tech, ESG, growth, value, regeneration, returns, and more. As a first time attendee, there was a lot to take in.

Despite the current market uncertainty, the overall feeling of the event was positive. There are still plenty of opportunities in this market for private equity and venture capital firms, and the event was buzzing with an abundance of GPs and LPs meeting and networking at night.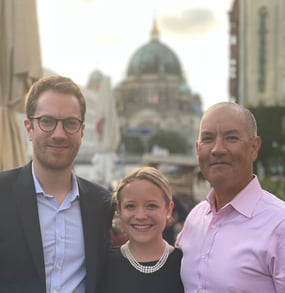 Anduin colleagues at SuperReturn (from left to right): Paul Ipavec, Emily Branshaw, and Tony Paredes
Event Highlights
Between meeting with clients, prospects, and partners, my colleagues Tony Paredes, Paul Ipavec, and I were able to attend a few presentations and gather these insights:
There is an urgency for advisors and banks to facilitate access to the private markets for individuals avoiding the volatility of the public markets. Richard Hope from Hamilton Lane mentioned that High Net Worth Individuals represent $80T, so it is crucial to provide structures that make it easy for them to invest.
Simplicity is key for retail investors, especially when it comes to subscription documents. Marco Bizzozero from iCapital emphasized that the paper-based manual process is cumbersome for individuals. Firms need to give High Net Worth Individuals a seamless, digital experience, which is also extremely relevant to institutional investors.
"There is no question that the industry is going through a lot of change at the moment", said Ruulke Bagijn, Head of Carlyle Group Investment Solution. Rather than spend time worrying, she asked attendees to instead question how they are going to take advantage of this change.
The world we've gotten used to operating in is changing. With the current geopolitical climate, many countries are starting to be more restrictive with some opportunities so firms will need to be more selective and careful going forward. Politics will start to play a role and will need to be taken into account in ways it hasn't in decades, says Gideon Rachman, Chief Foreign Affairs Commentator of the Financial Times.
That's a Wrap!
Overall it was a wonderful event and I'm looking forward to attending SuperReturn International in 2023! Thanks again Informa Connect for inviting Anduin Transactions.