Anduin achieves completion of SOC 2 Type II Certification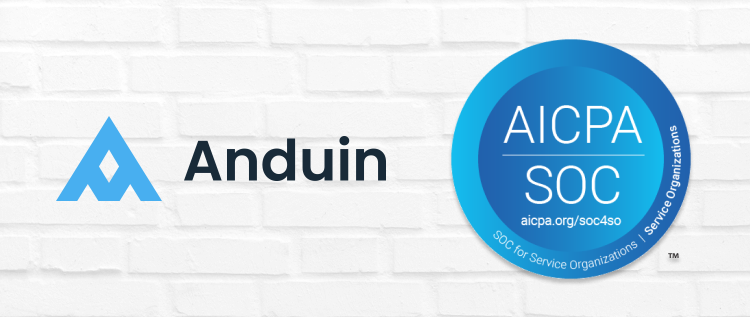 Data security is of the utmost importance at Anduin. We're proud to announce our successful completion of a Service Organization Control (SOC) 2 Type II examination. See our Trust Report.
This press release was originally published on BusinessWire and is below.

---

SAN FRANCISCO, CA - November 15th, 2022 - Anduin, the private market transaction innovator, today announced it has successfully completed a Service Organization Control (SOC) 2 Type II examination.
This independent audit conducted by Insight Assurance validates that Anduin's security practices and controls meet the American Institute of Certified Public Accountants (AICPA) Trust Service Principles and Criteria for System and Organization Control. SOC 2 Type II report demonstrates Anduin's ability to implement and execute strict and critical security policies that protect their customers' data. View our Trust Report.
"Anduin's proprietary cloud-native architecture was built to meet and exceed SOC requirements," said Alin Bui, co-founder and Chief Strategy Officer at Anduin.
Alin continued "The completion of the SOC 2 report ensures that our customers' institutional investors can transact on our systems in compliance with the highest security standards. It also provides fund managers with a secure infrastructure to onboard the mass wave of individual investors in the markets today."
In addition to SOC 2 Type II certification, Anduin is also compliant with GDPR, CCPA, the U.S. Esign Act (2000), eIDAS (no.910/2014), the Uniform Electronics Act (UETA), and Write Once Read Many (WORM) archiving. See our full security standards.
About Anduin
Anduin is revolutionizing the investor onboarding experience in the alternative and private markets. Whether engaging your LPs with our marketing-focused data rooms or providing a secure and collaborative environment to navigate the complex fund subscription process, connecting LPs and GPs efficiently is our obsession.
Our ecosystem has connected over 18,000 investors with over 360 funds, helping raise over $33 billion in capital globally. To learn more, visit www.anduintransact.com.